Check Out Our Barbecue Brunch
February 23rd, 2018
Were you aware that the month of May was National Barbecue Month? That's right, an excuse to indulge in some rich, succulent smoked meats and savory side dishes is right around the corner. Barbecue is a staple in American cuisine, so technically, it's your patriotic duty to eat some smoked meat.
If you are gearing up to eat some barbecue in its designated month, you can get a head start by checking out our new barbecue brunch at Texas Jack's. From 9:30am to 2:30 pm on Saturdays and Sundays, you can indulge in the heartiest, most delicious brunch in the Washington DC area. Today, we would like to highlight just a few items on our truly superb menu: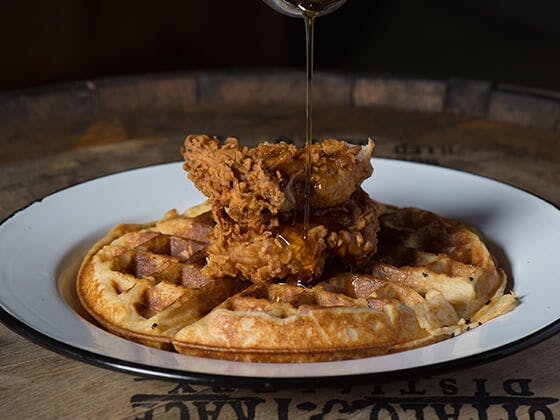 Chicken and Waffles
We haven't just mastered the art of barbecue at Texas Jack's; we also cook up a mean selection of crispy, tasty fried chicken. We fry that chicken with a painstaking eye for detail so that the results taste truly divine. The savory, crispy fried chicken is perfectly complemented with homemade waffles and covered in our deliciously sweet bourbon maple syrup. Unfortunately, we cannot disclose the secret to why our maple syrup is so good; we would have to kill you if you found out.
Barbecue Breakfast
Are you a fan of our Texas-style smoked brisket? We designed our barbecue breakfast with our true barbecue aficionados in mind. For this dish, we pair a heaping serving of brisket with two eggs cooked to your satisfaction. However, no barbecue breakfast is complete without some home fries and a biscuit, right? Don't worry, we've included them in this dish as well so that you will leave feeling so happy and so full.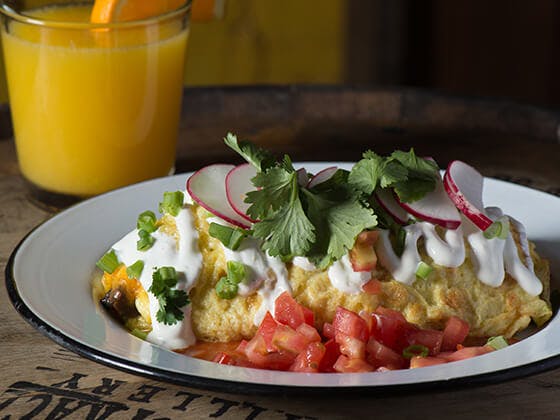 Omelet
For you fancier folks, we've included a rich, heavenly omelet plate. You can choose from either beef brisket or pulled pork, and your omelet is also stuffed with cheddar, mushrooms, and salsa roja and salsa verde. This delectable omelet is topped with a dollop of sour cream to polish your palate.

Borracho Burger
This delicious breakfast burger features Angus beef, white American cheese, and traditional burger toppings such as lettuce, tomato, pickles, red onion, and mayo. What sets this burger apart from the competition are the fried egg and bacon toppings. If you're feeling healthier, then you can have a side salad to accompany your burger. However, we also offer the more popular side choice: delicious, crunchy, salty french fries.
Drinks
Did you have a little too much fun last night? We can help ease your pain with our Classic Bloody Mary. For those of you who need a little more spice in your life, then you could try our Spicy Meatball Bloody Mary. This Bloody Mary comes includes smoked tomatoes, chipotle, and beef stock for a truly one-of-a-kind drink.
Would you prefer a sweeter brunch cocktail? We feature both Classic Mimosas made with champagne and orange juice as well as Mangosas, which substitute orange juice with mango juice for a tropical twist.
As you might already know, we love bourbon at our establishment, which is why we offer Champagne Juleps for our brunch crowd. These drinks feature delicious bourbon and fresh mint.