Our Side Dishes Are to Die For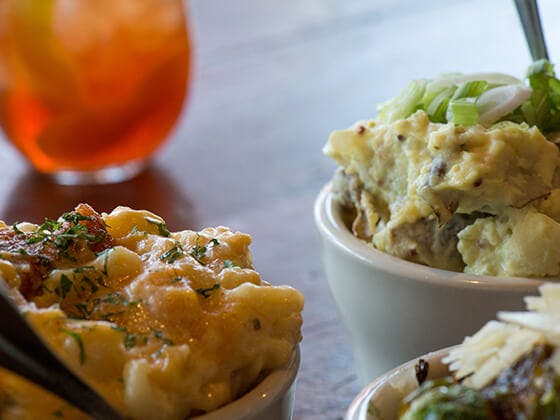 March 6th, 2018
Here at Texas Jack's, we have some of the most delicious barbecue in the Washington DC area. Our premium cuts of meat are cooked to perfection in a state-of-the-art smoker. Our St. louis style ribs are legendary, and our loyal customers keep coming back for more. Our smoked and seasoned Texas-style beef brisket is so good that even Texans approve of our delicious meat dish. Seasoned and slow cooked to perfection, our pulled pork shoulder is to die for. Although our smoked meat is legendary, we have an incredible selection of side dishes to accompany them as well. Today, we would like to highlight some of our delicious side dishes:
Brussels Sprouts
Our brussels sprouts are anything but the nasty vegetables that your mom force fed you when you were a youngster. Tossed in lemon juice and parmesan, our brussels sprouts are as delicious as they are nutritious. When you consume our brussels sprouts, you can feel a little less guilty about that extra helping of hearty meat that you ate.
Collard Greens
Another yummy and delicious vegetable side that our BBQ restaurant offers are collard greens. A staple in the Southern diet, we braise our collard greens in chicken stock with pork. You might be eating leafy greens, but the pork adds some extra kick to this dish. Add some greens to your BBQ platters by eating a portion of our collard greens.
Mac & Cheese
Seriously, what kind of BBQ restaurant doesn't offer a delicious serving of mac and cheese? Nothing accompanies a smoked chicken platter or some pork spare ribs better than a heaping serving of creamy mac and cheese. True, it's not as nutritious as our collard greens or our brussel sprouts, but this down home comfort food is so incredibly tasty!

Potato Salad
Most likely, you have a family member with a secret potato salad recipe that's considered the best.
Potato salad is a staple of many at-home barbecues, and it's only natural that we included our own version of potato salad on the Texas Jack's menu. We use red onion, mayo, mustard, and pickles for a scrumptious potato salad with extra kick.
Porky Pinto Beans
If you decide to add a little extra fiber to your barbecue dish, then the Porky Pinto beans might just be the way to go. Braised in chicken stock and pork, our delicious pinto beans are covered with shredded cheese and sour cream. This hearty bean dish could be good on it's own, but it's even better served alongside our meat medley.
Coleslaw
Another staple of barbecue side dishes is coleslaw, and we simply serve the best. It's common for restaurants to simply buy bags of pre-shredded cabbage and carrots and dump a bottle of coleslaw dressing into the mix to prepare coleslaw. At Texas Jack's we make fresh coleslaw for the most delicious cole slaw that you will ever eat.
The biggest reason that people come to our barbecue restaurant in Arlington is for the barbecue, but our side dishes are equally as delicious. Don't take our word for it! Visit Texas Jack's for the ultimate barbecue experience today!