Planning an Event? We'll Supply the Food.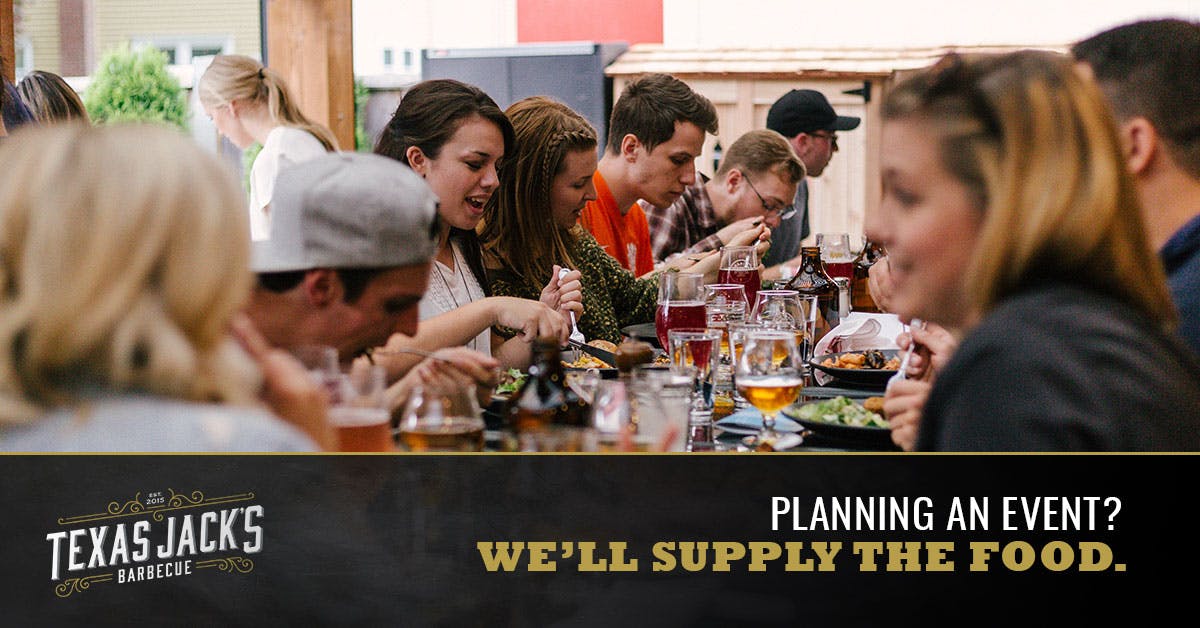 February 15th, 2019
If you're planning an event that requires a catering company, look no further. We absolutely love being a part of the party, and as you're probably well aware of if you're on this page, food is a really crucial thing to get right at any event. You know that feeling you get when you find out that your favorite restaurant caters? If you didn't before, now you do!
And really, is there anything better than BBQ catering? We might be biased, of course, but we would argue pretty fiercely that no, there is not. So what kind of events can we cater? As a matter of fact, that's the topic of today's post, so keep reading to learn more.
Full-Service Catering For Any Event
At Texas Jack's, we're always thrilled when we hear from someone who's interested in our catering services. They know us for our barbecue — which makes sense, of course, because we were recently named the #1 BBQ Joint in the DC Area by The Washington Post — and they want to have us bring the foods that we're known for to their event. That's something we can do gladly! No matter your event, we'd love to bring smiles to your guests' faces with delicious food. Here are a few of the events we would be glad to be a part of.
Wedding Catering
Corporate Catering
Birthday Catering
Any Other Event You Can Imagine
What's On the Menu?
Choose from your favorites from Texas Jack's, like sliced brisket, pulled pork, ribs, smoked chicken, sliced turkey, or sausage, and add your favorite sides as well. We can even offer hors d'oeuvres like deviled eggs, smoked barbecue wings, sausage bites, a brisket nacho bar, sliders, and more. Platters, desserts, drinks, and utensils are available as well.

You Can Pick Up Your Food or Have Us Deliver It
Want to send an employee over to pick up some food and bring it back to the office? That works! Prefer to let us bring the food to you? That's just fine as well! We know that different events are inevitably going to have different needs, and that's why our catering services are happy to (pardon the pun) cater to your specific requirements.
At the end of the day, the thing we desire the most is to help make your event a massive success that people talk about for years to come. Whether that's because you're the cool boss who hosted a lunch party for your company because they hit their goal or you want to have us bring the food to a bachelor or bachelorette party, there's nothing we'd love more than to be a part of it.
Contact Us Today!
At Texas Jack's, everything we offer is made fresh from scratch. That ensures that no matter what food you'd like to have catered, you can count on it to be delicious. Perhaps you know our food from visiting us and you loved it so much that you want to have it at your event. Maybe you saw a friend raving about our food over on our Facebook page. You may have even found us by searching for something like "restaurants that cater in Arlington" on Google.
However you found us, we're glad you did.
We believe that something like slow-smoked brisket is a work of art, and it's one that we believe will make any event a little bit better. Heck, you can even come in and let us take care of you with a private event! Whatever your needs are, we'll be there to help. Order your catering today or feel free to contact us with any questions.