So You're Searching for the "Best BBQ Near Me"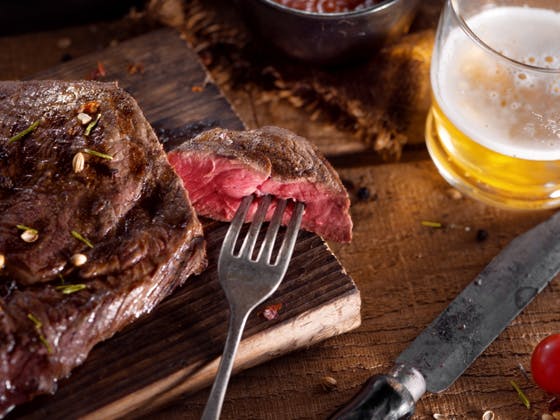 August 22nd, 2019
It's been a long day. You woke up just a little too early for your liking and just couldn't seem to fall back asleep. Once you got out of bed, you made some breakfast and headed into the office for a couple of meetings, several emails, and a lot of concentration. You didn't have a bad day, per se, but it's getting nearer to the weekend and the busy-ness of the week is starting to catch up to you.
After you left work, you headed home and flopped down on the couch. There's nothing quite like a relaxing night bingeing your favorite show on Netflix. Unfortunately, you don't really feel like cooking and you're feeling totally zapped.
In other words, you needed a little pick-me-up. So you typed…
"Best Barbecue Near Me"
…into Google, and voila! You found us. Welcome to Texas Jack's, the best BBQ restaurant in Arlington. That's not just hyperbole either, because we were recently named the #1 Barbecue Joint in the DC Area by the Washington Post. That's a true honor that we don't take lightly, and there's nothing we love more than providing people with great foods for any occasion.
If you had a particularly long day and you just need to hang out at home and eat some good food, we have you covered because we make it easy to order delivery online. Want to swing by and grab a little something to take home with you? That works too, because we'll prepare your order for takeout and have it ready when you get here.
We Offer Catering Services As Well
Let's say you didn't have a long day. Let's say instead that you have a big event coming up. Whether it's a birthday party, a wedding, or even a corporate lunch, we also offer full service catering to help make everything a little more special.

You'll find our famous smoked meats in our catering menu, of course. From brisket to pulled pork to ribs to chicken to sausage, we have all of the good stuff, along with a great selection of sides, hors d'oeuvres, nachos, sliders, platters, tacos, desserts, and drinks. That's right — everything you need for any occasion!
Or You Can Dine In at Our Restaurant
Needless to say, you can stop in and visit us any time as well. When you come into Texas Jack's, you'll find a beautiful restaurant made with locally sourced reclaimed wood and beautiful vintage brick. We know how important it is to cultivate the right atmosphere, and we think you'll be thrilled when you set foot in our restaurant.
When you dine in, you can also experience our great drink menu for yourself. Interested in some quality local beers? Who isn't? We have a great selection and we're always adding rotating taps from craft breweries to help make the selection even better. We even have wines on tap in red and white varieties!
"Ahh, but eating barbecue requires a good cocktail or a glass of whiskey." Indeed it does, friend. Take a look at our drink menu and you'll see that we can make you a number of unique cocktails. Our Jack's Mule is a winner — it's made with bourbon, fresh lime, mint-basil, and ginger beer. Or how about the Smoked Whiskey Sour? It contains bourbon, fresh lemon, smoked jalapeno peppercorn and brandied cherries.
You just want a simple glass of whiskey, you say. We say, "what variety?" We have several great bourbons, ryes, and other whiskeys, and we'd almost guarantee that there's something on our drink menu that you haven't tried yet. Whether it's Blanton's, Hudson 4 Grain, or Reservoir Rye, if you're looking for the perfect complement to one of our delicious smoked meats, look no further, because we won't let you down.
And let's not forget dessert. You spent plenty of time searching for the best BBQ near you, so you might as well end your experience with something sweet! We offer a number of great choices including banana pudding, red velvet cake, chocolate mousse, key lime pie, and even a pretty incredible chocolate chip cookie if you'd like to take your dessert with you to go.
The Best Barbecue in Arlington — Hands Down!
At the end of the day, whether it was a long one at work or an exciting one out on the town, we know that if you're craving some great barbecue, you'd be hard pressed to find anything quite as amazing as Texas Jack's. We take great pride in our menu and we truly love everything on it.
We're located on Washington Boulevard here in Arlington, so whether you're having your food delivered, letting us cater an event, or dining in and spending some time with us, we think you'll love your experience with Texas Jack's. We look forward to seeing you!