Wedding Catering Made Easy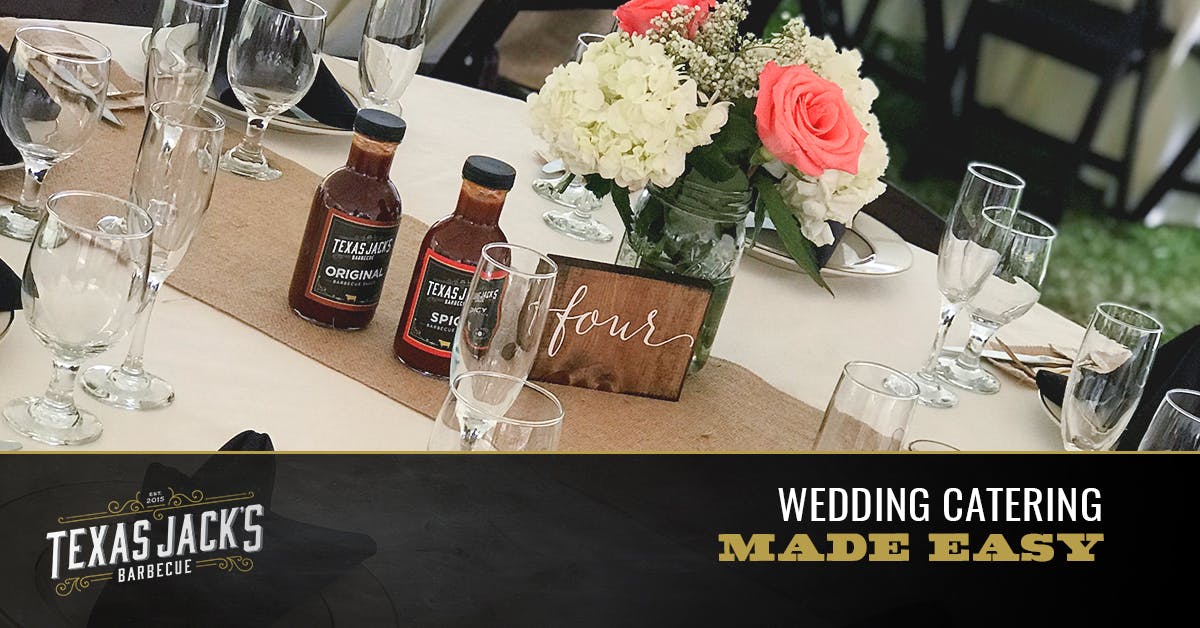 September 19th, 2018
If you're searching for restaurants that cater in Arlington, look no further than Texas Jack's! We are proud to lend our catering services to events of all kinds, but there's something about catering for weddings that we absolutely love.
You see, wedding catering means that we get to be a small part of a couple's big day. Weddings are always a blast because it means that two people get to be surrounded by all of the people that they love the most in the world who have come together to celebrate the fact that the couple is making a commitment to one another. There's nothing quite as beautiful as a good wedding and we'd love the opportunity to help make your wedding day just a little bit more special.
What Makes Ours the Best Barbecue in Arlington?
Whether you're in the mood for sliced brisket, pulled pork, ribs, chicken, or sausage, we have you covered! There's even a great variety of sides, hors d'oeuvres, sweet treats, drinks, and more to ensure that you get exactly what you need.
We were recently voted the #1 Best Barbecue Joint in the DC Area by the Washington Post and that's an accomplishment that we're pretty proud of. When it comes to your wedding, you might as well have the best and that's exactly what you'll get when you choose us for wedding catering!

It's Your Wedding, So Eat Well!
A good meal puts a smile on your face and makes you happy, right? It just makes sense then that your wedding day should be the day in which you get to eat some of your favorite foods! All too often people are willing to compromise, but it's our opinion that you shouldn't have to compromise on your big day!
The good news is that we offer the best BBQ in the area at a price that's fair. In other words, you can have your (wedding) cake and eat it too! We even make it easy to order catering online so you can start planning early and get exactly what you want. Have a question about the process? Don't hesitate to reach out to us because we'd be glad to make sure you have all of the information you need.
Barbecue Catering for Any Event
At the end of the day we believe that good food is an important part of any big event. That's why whether you need to feed an entire group of guests at your wedding or you want to treat your employees to lunch for a job well done, we'll be there to help. When it comes to restaurants that cater in Arlington, Texas Jack's strives to be the best of the best and you can count on us to make your next event a smashing success.
So whether you bring your friends and dine in with us on the weekend or count on our catering services to help make your event a more enjoyable experience we think you'll be pleased with what we have to offer.