What Makes Texas Jack's the Ultimate Barbecue Experience?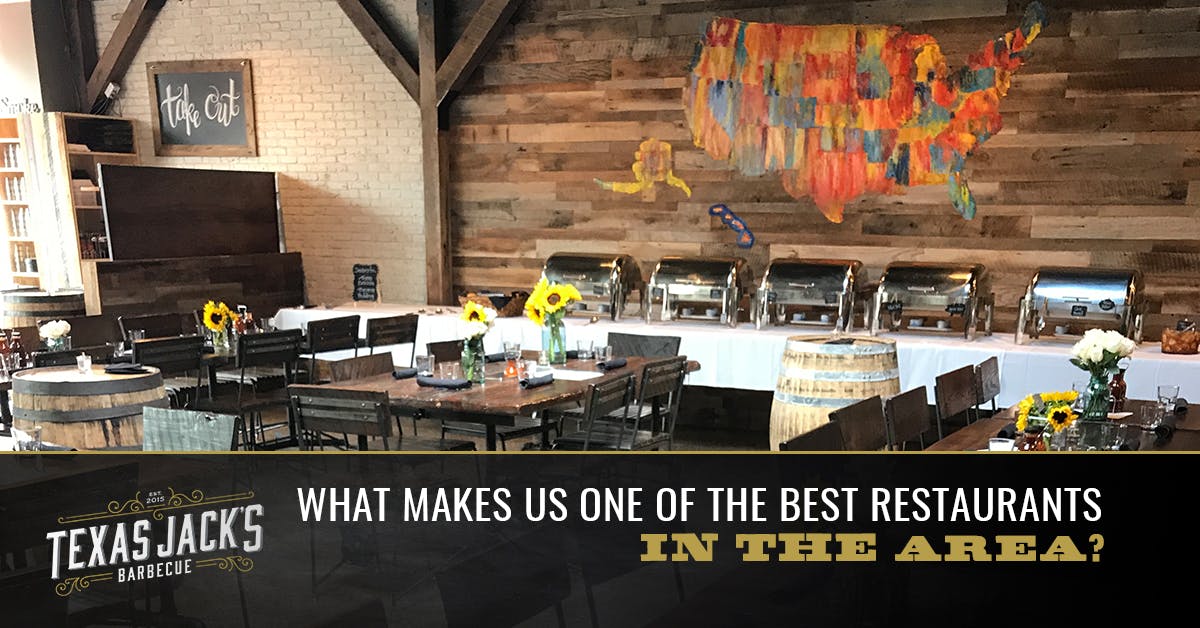 March 14th, 2019
From our smoked-to-perfection pork spare rib to our guest-favorite '87 Cutlass Supreme Nachos, Texas Jack's has everything you could ever hope to enjoy in a barbecue restaurant. With a menu that's been extensively cultivated to ensure that we're always offering the best of the best, we strive to ensure that your trip to see us is perfect in every way.
In fact, did you know that we won the Washington Post's award for the Best BBQ Joint in the DC Area last year? It's something that we're really proud of, because we truly believe that after years of perfecting our menu, we're offering some truly incredible dishes.
The truth though is that the food is only the beginning of what we offer at Texas Jack's! That's why in today's post, we'll be sharing a few of the things you might not know about us that we think makes our Arlington restaurant really special. Keep reading to learn more!
What You Might Not Know About Texas Jack's
Big Groups Are A-Okay With Us
Need to reserve some space for parties over twenty people? That works for us! We have a great space that's available for our guests and there's nothing we'd love for you to bring your party to us so we can fill you all full of amazing food and drinks.

We Offer Gift Cards
Did you know that Texas Jack's offers gift cards? Whether you're looking for a unique way to reward your employees for great performance at work or you know of a barbecue fanatic that would appreciate a thoughtful gift, we're happy to make life a little bit easier for you. Click here to purchase gift cards.
We're Looking for People to Join Our Team
Texas Jack's is also currently looking for awesome people who understand what we're all about to join our team. We love our customers and we want to provide them with an exceptional experience. If you're looking for a job, send an application our way at our contact page.
Come On In Today
Whether you're visiting with a large group or just coming in for a bite and a beer on a Friday evening, Texas Jack's would be glad to have you. We've worked hard to create one of the best restaurants in Arlington and there's nothing we love more than doing what we do best — sharing amazing barbecue with the people of our community.
Everyone loves having that one restaurant that just never disappoints, and if you've never been here before, pop on in and give us a try! As we mentioned above, we absolutely love sharing the food we've worked so hard to perfect over the years. There's something for everyone on our menu, and the level of care we put into each dish is something we sincerely hope that each and every one of our customers can feel when they visit.
Take a look at our location and hours and plan a time to get over and see us. We look forward to meeting you!