Why Now Is the Time to Visit Our Barbecue Restaurant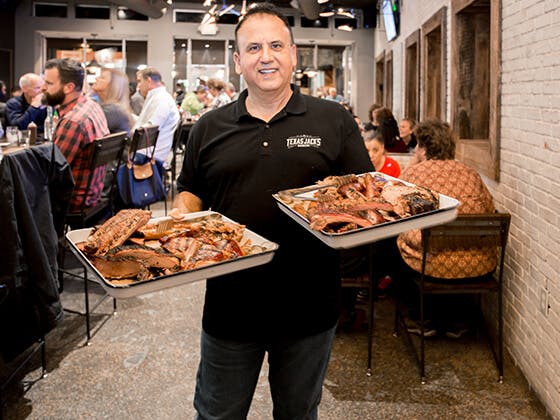 March 27th, 2019
How many times have you said something like, "Oh, I've heard that restaurant is really great, but I haven't had the chance to get over there yet"? If you've said it about Texas Jack's, please allow this blog post to serve as a reminder that it's time to make your way over here and give our food a try! We strive to be the best barbecue restaurant in Arlington, and the fact that the Washington Post named us the #1 barbecue joint in the D.C. area is proof that our food is as good as we think it is.
We're certainly not saying any of this to toot our own horns or anything like that. Instead, what we hope to communicate with you is that we've worked really hard to perfect our recipes over the years. Whether it's our famous beef brisket or our patron-favorite nachos, a lot of time went into perfecting everything so we could proudly share it with our guests. If you're on the of people who's been meaning to make your way over here, today's post is for you. In it, we'll be sharing a bit about what makes our restaurant the best in the area. Keep reading to learn more!
What Makes Texas Jack's So Great?
Well, for starters, it's our food. After all, a restaurant can have a great atmosphere and a friendly staff, but if the food's not good…well, it's not going to last long. Thankfully, we have all three of those things. We mentioned some of our foods above, but feel free to check out our entire menu to get an idea of what you can expect when you visit. Hey, it's always kind of nice to look at a menu beforehand so you know what to order when you come in!

With different menus for brunch, lunch, and dinner, you're sure to find something that makes your stomach rumble in anticipation. We even have a pretty great drink menu, so whether you're looking for a beer or a cocktail — or a glass of whiskey, because nothing goes better with barbecue than a good glass of whiskey — you'll find that we have several options to choose from. It doesn't get much better than that!
Catering for Any Event
So you stop in to visit us and you enjoy everything about your experience. "If only they could cater my next event," you think to yourself. Good news, friend — we can! We even make it really easy to order catering online. Whether you're searching for catering services for a wedding, a party, a corporate lunch, a birthday, or something else entirely, we'd love to bring the food so you can focus on having a great time.
Visit Us Today
Well, there you have it. The only thing that's left is to take a look at our hours and location and plan a visit. We're pretty confident that you'll find everything to your satisfaction, and we'd even wager that ours will become your new favorite barbecue restaurant in Arlington.